Preparing for Back to School
8/17/2020 (Permalink)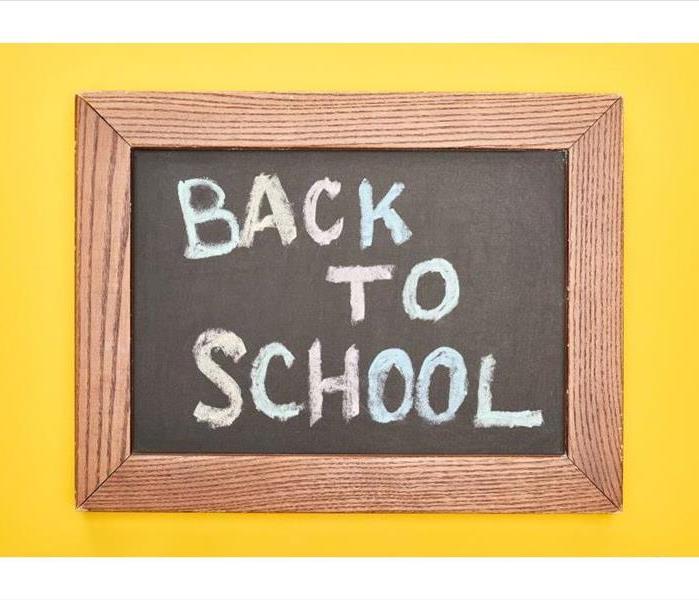 Schools are a vital part of the infrastructure of communities and play a critical role in supporting the well-being of a child, not just their academic achievement. With schools preparing to reopen their doors after shutdowns, parents and staff members have concerns about the health and safety of students.
The CDC has put together a plan for K-12 school administrators to follow as students and staff return to school in the fall. According the CDC, it is critical that all administrators for these steps:
Engage and encourage everyone in the school and the community to practice preventive behaviors. These are the most important actions that will support schools' safe reopening and will help them stay open.
Implement multiple SARS-CoV-2 mitigation strategies (e.g., social distancing, cloth face coverings, hand hygiene, and use of cohorting).
Communicate, educate, and reinforce appropriate hygiene and social distancing practices in ways that are developmentally appropriate for students, teachers, and staff.
Integrate SARS-CoV-2 mitigation strategies into co-curricular and extracurricular activities (e.g., limiting or cancelling participation in activities where social distancing is not feasible).
Maintain healthy environments (e.g., cleaning and disinfecting frequently touched surfaces).
Make decisions that consider the level of community transmission.
Re-purpose unused or underutilized school (or community) spaces to increase classroom space and facilitate social distancing, including outside spaces, where feasible.
Develop a proactive plan for when a student or staff member tests positive for COVID-19.
Develop a plan with state and local health department to conduct case tracing in the event of a positive case.
Educate parents and caregivers on the importance of monitoring for and responding to the symptoms of COVID-19 at home.
Develop ongoing channels of communication with state and local health departments to stay updated on COVID-19 transmission and response in your local area.
Schools may consider implementing strategies to encourage behaviors to help reduce the spread of COVID-19. The CDC has provided strategies on how to reduce the spread:
Staying Home when Appropriate
Educate staff and families about when they/their child(ren) should stay home and when they can return to school.

Actively encourage employees and students who are sick or who have recently had close contact with a person with COVID-19 to stay home.
Staff and students should stay home if they have tested positive for or are showing COVID-19 symptoms.
Staff and students who have recently had close contact with a person with COVID-19 should also stay home and monitor their health.

CDC's criteria can help inform when employees should return to work:

If they have been sick with COVID-19
If they have recently had close contact with a person with COVID-19
Hand Hygiene and Respiratory Etiquette

Teach and reinforce hand-washing with soap and water for at least 20 seconds and increase monitoring to ensure adherence among students and staff.

If soap and water are not readily available, hand sanitizer that contains at least 60% alcohol can be used (for staff and older children who can safely use hand sanitizer).

Encourage staff and students to cover coughs and sneezes with a tissue.
Cloth Face Coverings

Teach and reinforce use of cloth face coverings. Face coverings may be challenging for students (especially younger students) to wear in all-day settings such as school.

Note: Cloth face coverings should not be placed on:

Children younger than 2 years old
Anyone who has trouble breathing or is unconscious
Anyone who is incapacitated or otherwise unable to remove the cloth face covering without assistance
Cloth face coverings are meant to protect other people in case the wearer is unknowingly infected but does not have symptoms. Adequate Supplies

Support healthy hygiene behaviors by providing adequate supplies, including soap, hand sanitizer with at least 60 percent alcohol, paper towels, tissues, disinfectant wipes, cloth face coverings (as feasible) and no-touch/foot-pedal trash cans.
Signs and Messages

Post signs in highly visible locations (e.g., school entrances, restrooms) that promote everyday protective measures pdf icon and describe how to stop the spread pdf icon of germs (such as by properly washing hands and properly wearing a cloth face covering image icon).
Broadcast regular announcements on reducing the spread of COVID-19 on PA systems.
For more information on preparing for back to school, visit the CDC website.